| | | |
| --- | --- | --- |
| | | Richie Fontana: "I'm grateful to have been associated with KISS through the years" |
In issue 42 we kicked off a great interview with former Piper and Skatt Bros. drummer Richie Fontana, who not only drummed on Paul Stanley's 1978 solo album but also was one of the drummers considered as the new KISS drummer after Peter Criss had to leave in 1980 because his behavior had gotten unmanageable during the 1979 Dynasty Tour. During the eighties, Richie toured with Laura Branigan (at the peak of her career - who doesn't remember the hits Self Control and Gloria?) and worked with various legendary artists such as Dr. John. By the late eighties, Richie started to prefer working as a solo artist which lead to him writing material in the nineties that ended up on his recent album Steady On The Steel - but for now let's turn back the clock some three decades and pick up the interview there...
You also worked on Billy Squier's demos in 1980, how come you didn't play on his album? Was that because you had already joined Skatt Bros.?
"After Piper broke up, I continued working with Billy for about a year, from '78 through '79. I had also worked on Paul Stanley's album during that time, as well as a project with ex-Piper guitarist Tommy Gunn. It was then that Sean Delaney called me about putting a new band together; the band which was to become Skatt Bros. So I caught a flight to Toronto, started working on the first Skatts album, and then moved to L.A. Perhaps I would have continued to work with Billy Squier had I stayed in New York, but I can't be sure. After all, Billy was now a solo artist and I'm sure that he wanted to work with a number of different musicians at that point."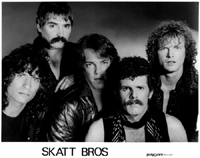 You released two albums with Skatt Bros. What was working with Sean Delaney like, and how was it to have a handful of hit singles?
"Sean Delaney was/is a songwriting factory. One of the most prolific writers that I've ever known. It was just as much fun working with him as a band member as it was a producer or whatever. I learned alot from Sean over the years, knowledge that I carried with me beyond the Aucoin era. He's always had a keen sense of objectivity and creativity, which is also what makes him a great record producer. Skatt Bros. was overloaded with talent, so it's no wonder we had the amount of success that we did. We knew how to make records that were relatively radio friendly, having strong hooks with powerful vocals, and a butt kicking rhythm section, even if I do say so myself. [smiles] My own songwriting skills really started to develop during that period, especially because I was surrounded by such talented writers."
Tell me a little about the other band members and what bands they came from?
"Well, David (Fern)Andez was from New York City like me, and prior to Skatt Bros. he had been a back-up singer for the Village People. Peter Sweval had previously been in Starz, and Looking Glass before that, and yes, he is on the hit Brandy from the 70's [a number 1 hit in '72 - ed.]. Richard Martin-Ross, who had a fantastic singing voice was from England; I think he had something to do with the Zombies in the early days but I'm not sure. Craig Krampf was an L.A. musician with a very long track record of people that he had worked with as a session player; he had previously been in Nick Gilder's band - ya know Hot Child In The City - and later was the drummer for Kim Carnes; that's him on Bette Davis Eyes. Sean Delaney, as KISS fans would know, played a major role as a writer, producer and choreographer, including stage production; who worked with KISS, Piper, Starz, Toby Beau and many others..."
How would you describe the Skatt Bros. sound?
"Dance-Rock I guess, but I have to say that even though Skatt Bros. had been put into the dance category, in reality we were a rock 'n' roll band, plus we had some great ballads. We were able to touch on a variety of musical formats because each member of the group had a different expertise. It was an extremely talented group which is what gave it those capabilities. Whether it be Rock 'n' Roll, Pop, R & B, Country or whatever, we did a little of each. Being that diverse could have worked against us, but we managed to do pretty well."
In your bio it says that you were a close member of the KISS family through 1983. In what way were you involved with KISS between 1979 and 1983?
"Well, '79 through '81 I was in Skatt Bros. During 1982 I remained affiliated with Aucoin Management, but not in any specific way. Bill Aucoin had become the manager for Billy Idol at that time, so I used to sometimes hang out with them. I once played with Billy Idol and his guitarist Steve Stevens, filling in for their drummer as they auditioned bass players. Stuff like that. I was just... there."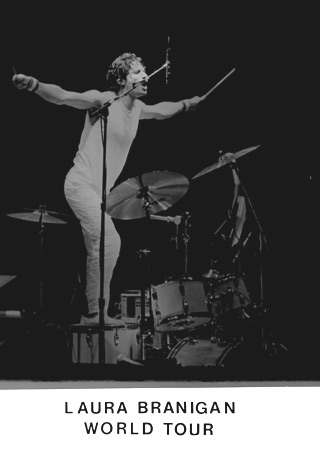 How was it to work with Laura Branigan in the mid 80s?
"It was great to hook up with an artist that had a string of hits going. Laura was great to work with, and the band members were all seasoned players. I was in really good company working in that band. Although it wasn't the type of gig that one would've expected to see me doing at that time, I enjoyed playing music of that ilk. It was then that I felt I was at the top of my game as a drummer. And, even though I had to conform to the framework of Laura's music, I was still able to make it my own. Laura and her management were open to letting me contribute to the show my own way; as opposed to just being a backdrop sideman musician, so it was good for me. Despite the fact that Laura Branigan was known as a dance artist or whatever, the shows really rocked, plus she had some beautiful ballads. And because her music drew a wide demographic, I got to meet a diverse group of performers. As I say on my web site; from The Hollies to Bob Hope, from Frank Zappa to Elizabeth Taylor. I toured with Laura for almost three years, it was fun."
How did you end up working with a legend such as Dr. John?
"That was a New Years Eve gig that we did back in the 80's. It was very much a spur of the moment type thing. Steve York, who was the bass player that I was working with on the Branigan tours as well as session work in NYC, was asked by Dr. John to do this gig. That afternoon, both Steve and Dr. John called me at the studio where I was working, to ask if I would like to do it too. Well, I'm so glad I did. T'was a great night. We played into the wee hours of the morning, performing Dr. John classics and more. It was just the three of us; drums, bass and piano. What made it easy was that we all lived in the Chelsea section of Manhattan, so we only had to stroll on down the street to the club."
Do you prefer working in the studio or touring the country?
"I have always equally loved both. The energy and excitement of a live performance can't be touched. It's like a giant orgasm. But, being in the studio, making records and creating something new to be sent out into the world for the approval of the fans is also exciting. Hey, it's all good."
You have Multiple Sclerosis, but had to keep it a secret for almost 10 years. That must've been very difficult...
"It was difficult in the beginning, although I was in denial back then anyway so I just carried on as if nothing was wrong. I didn't want management or the record companies to think of me as a bad risk so I kept my mouth shut about it. I didn't even tell Bill (Aucoin) while he was working with me on my solo career. I figured if it doesn't show, why should I talk about it. But, it was a bit nerve wracking harboring that secret. It wasn't until some years later that I came out with it, especially when I started to limp. It took a while, but once I accepted the fact that I have MS, I was able to resume all that I was doing with music. I am truly one of the lucky ones. I've had MS for 17 years now and I'm still on my feet. I only need a cane to get around, which is just fine. I've been taking the most up to date medication for it, and I've pretty much slowed, if not stopped the progression of the illness. So, life goes on!
By the late 80s you started to prefer working as a solo artist, which lead to your solo album Steady On The Steel in 2002. How did you evolve like that? Did MS have anything to do with it?
"My MS had nothing to do with it. Besides playing drums, I have always played guitar, bass and a bit of keyboards, and I had been writing songs for quite some time. Plus, being a song oriented musician, I've always fancied arranging and production. Anyway, the feeling just got so strong that I felt I was ready to make the commitment and obligate myself as a solo artist/songwriter. So, I started recording my material and producing myself. But, it was when Mac Johnston, creator of Lightsites.com designed my new web site, that things began to happen. Thus, www.richiefontana.com, Steady On The Steel - the album."
What have you been up to between the late 80s and the early 90s?
"I was basically stock piling songs during that period, doing alot of writing and recording. I was also writing, recording and producing music for a children's entertainment/educational company called Skyshapers, which was a very good exercise. It was the first time that I was ever put on the spot, having to write music on demand, and I was happy to see that I was able to answer the call. It was a new and helpful experience for me at that time."
What music are you into these days?
"Of course, I still like the classic stuff, but there are a number of artists/bands from recent years that I think are really good too, groups like: No Doubt, Green Day and Garbage come to mind. And then there are a number of various one hit wonders that I like too, whatever. I have to mention the song that Bon Jovi came out with last year called "It's My Life"; that's killer power pop. And of course Aerosmith - long may they live."
How long did it take you to actually write all the songs and record your album?
"The Steady On The Steel album is comprised of material that I had written and recorded during the 90's. Whenever I write a new tune, I record it right away. I get on fire about it so I have to record it before I can move on to the next one. I have lots of material so I just picked the tunes that I thought would work well together in album form. I've also included songs that I felt were worthy, even though they never made it past the demo stage."
Bill Aucoin is one of the people on your thankslist in the CD booklet, is that because of the old days or did he actually support you in any way while you were working on your solo album?

"Bill has always been very supportive, both in the old days with the bands, as well as my solo work. He was very much a part of my solo career in the beginning. If fact, he's still there should I need advice or whatever."
Are you still in touch with other people from the old gang, like Sean or anybody?
"Yes, in fact I spent this past New Years Eve [2001/2002, that is - ed.] with Sean Delaney at the home of Lydia Criss here in New York. JR and Moose from the early KISS road crew were there as well. We talked about old times and new, as well as Lydia's upcoming book. We all had a lovely time. More recently, I was with Ace Frehley at his private birthday party [April of 2002 - ed.]. Occasionally, I speak with my ex-Piper mates, Billy Squier and Danny McGary. We had a surprise birthday party for Billy last year, plus I saw him perform last summer when he was on the road. And as I say, I also speak with Bill Aucoin from time to time. So yeah, we're in touch."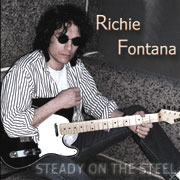 What does the album/song title Steady On The Steel mean, is it an American/English expresion or something like that?
"The title Steady On The Steel is my own creation. Whether or not anyone has ever put those same words together in a sentence before, I wouldn't know. The song is about a musician, particularly a guitar player, and the unorthodox life style that many musicians and artists live, that is often misunderstood by the average person. It just sounded like a good album title to me, so there."
What are your personal favorites on the album?
"At the risk of sounding cliched, I like 'em all. We've all heard artists and songwriters say that their songs are like their children, well it's true, and I feel the same way. But, if you're holding a gun to my head, I'd have to single out Baggage & Blues for one. That's a song I can hear any number of artists doing, like Rod Stewart for example. Somebody's Lover and Can't Break A Broken Heart are also very coverable. That's why I'm also pitching my material to other artists and publishers. I'm leaving all doors wide open. But all in all, I feel that my album has something for everyone."
Is there anything else you'd like to share with the KISS fans and music lovers in Europe?
"Just that my affiliation with KISS has been a welcomed twist of fate, and that I'm happy and grateful to have been associated with them through the years. Other than that, be sure to check out my new web site: www.richiefontana.com, which is also where you can find my album!"